We are hoping that everyone has settled into 2022 nicely. You've heard it, and the market is indeed still imbalanced. We desperately need more supply to be able to meet the demand that still exists for real estate in this Guelph and Wellington County real estate market area.
If you have been thinking of selling, or had our Team provide you with a market evaluation in the past two years, please be aware that this valuation is now obsolete. Many sellers have reached out to receive a re-evaluation of their home to reflect what is happening in the current market, so please do not hesitate to reach out to update this.
With the indication that interest rates from lenders will rise later in the year, and housing supply steadily being low, this is an opportune time to sell your home if you are considering it. Prices have grown exponentially in the last year, especially in the final quarter of 2021, as can be seen in the graph below. The cost of borrowing remains low for now, and incentive to make borrowed money work is a key driver pushing investment purchases as well.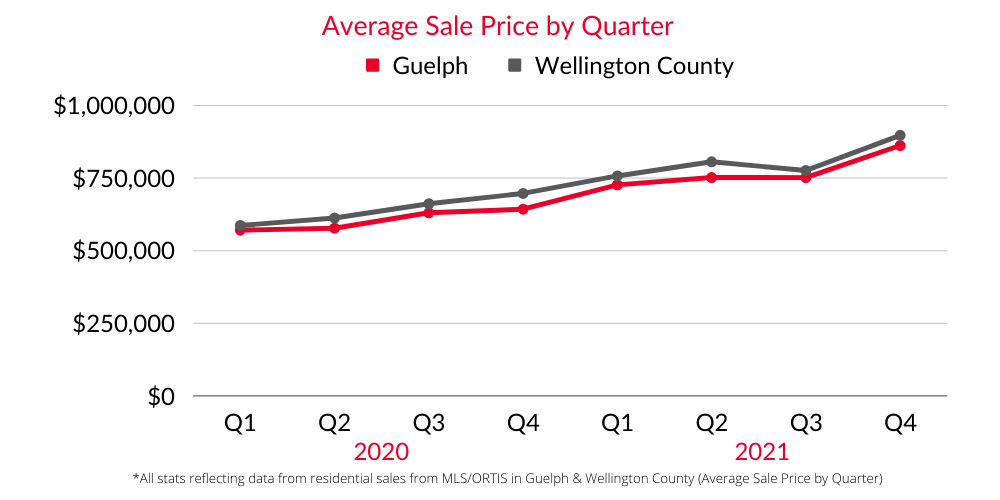 We hope everyone had a great Family Day and with COVID restrictions appearing to lift, there is much to look forward to. Days are slowly getting longer and occasionally, we are experiencing those sunnier, zero-degree days – just a little taste of Spring!